This guide should help you upgrade or downgrade to a new tier from either Patreon or the TTP Website Subscriptions. The most common causes of problems are multiple email addresses, multiple discord accounts, and improperly changing the subscription email address.
Patreon Subscriptions
Patreon to Patreon Upgrade
If you are a current Patreon subscriber and would like to upgrade your tier, you need to edit your membership on the Patreon website. After selecting the new tier, sometimes it will take a while for things to sync up properly, but in at least 24hrs you should see your upgraded status on discord and self-service.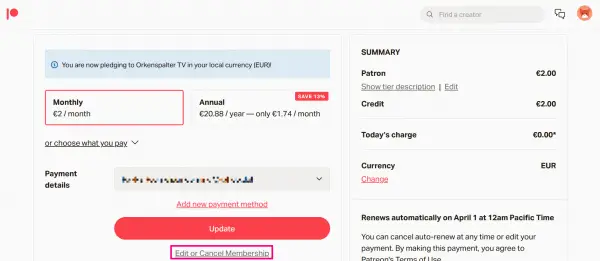 Patreon to TTP Website Upgrade
If you are a current Patreon subscriber and you would like to switch to the TTP Website Subscriptions, please follow these steps:
Log in to the TTP website using your current subscription account.
Choose the tier you want.
Once the purchase is confirmed.
Log out of the TTP Website
Note: If your country is not supported then you cannot subscribe using the TTP Website at this time.
Log in to the Patreon Website
Log back into the TTP Website. You can still use the Patreon or Discord SSO
Check your upgraded role in discord.
Notify a Moderator if you have any issues
NOTE: Patreon charges for the entire month even if you only used one or two days. They do not pro-rate cancellations. Therefore, we strongly recommend you upgrade towards the end of your Patreon subscription month.
TTP Website Subscriptions
TTP Website to TTP Website
If you are a current TTP Website subscriber and you would like to upgrade your tier then you will first have to cancel the membership and then purchase a new subscription. Currently, the system does not support direct upgrades. If you decide to upgrade before you have used 50 percent of your subscription please contact a moderator on discord so we can process the cost difference. We do not pro-rate your time we will simply charge you the difference for the upgraded term, or start your 30-day subscription from the time you purchase the upgrade.
TTP Website to Patreon
If you are a current TTP Website subscriber and you would like to switch to a Patreon Subscription, keep in mind that Patreon will charge you for a whole month even if there are two days left. The TTP website subscription will start your 30-day period from the day you make the purchase.

In order to switch to Patreon you will have to:
Cancel your TTP website subscription
Log in to Patreon
Purchase the tier you desire.
In all cases, you need to make sure you do not have both subscriptions active for longer than 24 to 48 hours. The back end should respect the higher tier, but it only causes confusion if you have two concurrent subscriptions.
Should you have any questions about this process, just reach out to a Moderator in #contact-a-moderator on Discord and someone will help ensure you have a smooth transition.
Get TTP Website Account Password
You should do a password reset on your account and then save the password you create in case you lose access to your account for any reason.
Visit the TTP website and log out if you are already logged in.
Select the "Lost your password?" link
Check your subscription email
Reset and save the password
Downgrading
Downgrading is similar to upgrading above. Follow the steps for Patreon or the TTP Website subscriptions and instead of selecting a higher tier, you select the lower tier.